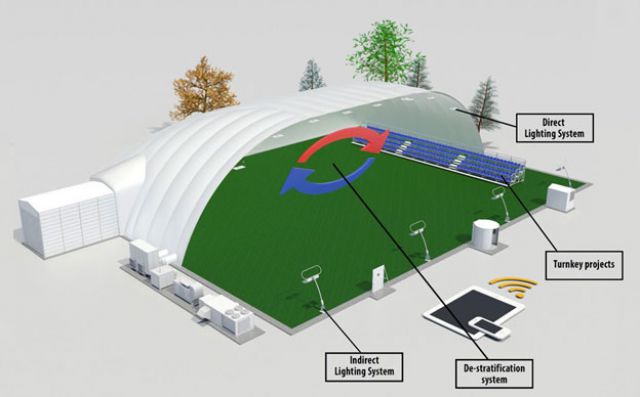 What is air dome and how does it operates?
An inflatable air dome supported structure is a building formed from one or more layers of continuous flexible membrane and covered with a special PVC coated fabric anchored to the ground or to a wall, inflated and supported by pressurized air and without any kind of construction; as the pressurized air is the main construction element, and it is considered the best alternative for steel structure.
The ventilation system provides a slight overpressure inside the air dome to ensure the distinguished form
of the dome, and also the structure stability under all climatic condition. The same inflating units can work as a heating unit, to heat up the entire space. The optimal pressure inside the dome is 200-300 Pascal under normal conditions, depends on the dome size and specifications.
The ventilation system ensures the fresh air circulation inside the dome to keep a healthy, fresh
and cool environment for the visitors inside the dome.
The dome is suitable to cover any sports field, warehouses, industrial facilities, etc.
In the case of local electricity supply failure or pressure loss, the emergency backup unit intervenes
Immediately; the supply of electricity to all units can additionally be provided by the electrical generator.
Air structures offer great flexibility and can be used as seasonal, permanent or temporary structures.
Standard Elements of Dome:
DUOL DMSTM Membrane system
Anchoring system
Revolving Door
Emergency Door
Ventilation and heating system
Emergency backup system
Accessible door
Vehicle & Equipment Airlock Access Door
Dome manager
De-stratification system
Air conditioning system
Why air dome?
Resistance to extreme weather.
Very short project execution time.
Easy to relocate.
Energy efficient structures.
Conforms to all Safety Standards.
Durability 40+ years.
Less cost than convenient buildings
Modern Customizable design and branding,
No wasted space.
No maintenance costs.
Multi-purpoe structures.